Henri Dargent contributed to the long and glorious history of CitroŽn Styling.
A talented model maker, he had the privilege of being Flaminio Bertoni's closest working partner between 1957 and 1964
Forty years on, Henri Dargent talks to "Double Chevron"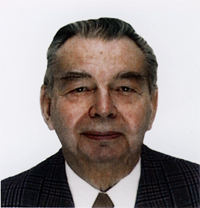 Double Chevron: When did you join CitroŽn?
Henri Dargent: My father was a foreman at the Epinettes stamping workshop in Paris and decided I was going to work for CitroŽn. I joined the company in 1945 as part of the Andrť CitroŽn professional training programme (FPAC).
D.C.: When did you meet Flaminio Bertoni?
H.D.: The first time was at the Grande ChaumiŤre academy in Paris, where we were working on drawing and sculpture from models. We were introduced for the first time in 1949, at an exhibition organised by the Association of CitroŽn Artists. After spending some time in central tooling, I started work at the design office on the Rue du Thť'tre in the 15th arrondissement in Paris in 1953. 1 began working with Mr. Bertoni in 1957, at his request.
D.C.: That must have been a major event for you?
H.D.: Yes, it was really a major event. I was going to work with a master. When 1 arrived he told me, 'This is a sculptors' studio. You don't need your drawing board.'
D.C.: Why do you think he chose you?
H.D.. While 1 was working in CitroŽn's design office, I was also taking classes in Applied Arts at the Arts et Mťtiers engineering college. I wanted to further my training and get a diploma in engineering. So I decided to submit some of my vehicle projects to Mr. Bertoni.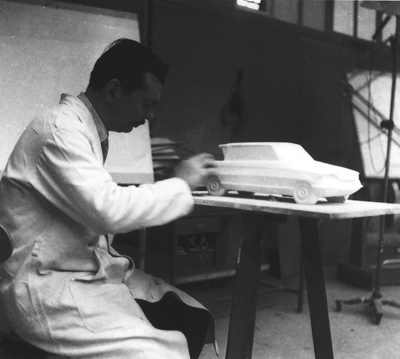 H.D.: He smiled and brushed them aside.
D.C.: What did you work on in the Bertoni studio?
H.D.: Car models in plaster. We made lifesize, scale 1 sculptures. We didn't make many small models.
D.C.: Did he frequently intervene, or did he let you get an with things yourself?
H.D.: It depended, really. It was a bit of an adventure. I would often leave a model in a fairly advanced rough form at the end of the day, and when I arrived the next morning he'd be changing the model's volumes with his little hammer!
D.C. : Bertoni made some magnificent sketches, but the main image we have of him today is that of the man working on a model of the Traction Avant. He pioneered 3D volume modelling. Was this the most important form in his eyes?
H.D. : It's true that he made sketches to define a part, but without going into detail. Only volume counted. He had the shape he wanted to make in his head, and it was difficult to get away from it.
D.C.: What was it like working with him?
H.D.: I admired him. I worked incredibly hard, and I observed him to understand how he arrived at the final result.
D.C.: Can you describe his method?
H.D.: He shaped each model using a plane, taking into account the way it caught the light. And he stopped when the result seemed satisfactory. It was sensual and instinctive sculpture. But he also knew a great deal about materials and steel. He always had a reason for what he did, and he was extremely precise with technical definitions. Don't forget that he was a coachbuilder when he was younger. He knew all about marking out and shaping metal. Bertoni was a genius he was into everything, and he was a real workaholic.
D.C.: And when you presented projects to the management?
H.D.: With him it was a little like improvised comedy. First, he presented the models he liked the least, then, at the last moment, he would say to me, 'OK Dargent, unveil that one!' It was his way of getting the one he liked accepted.
D.C.: Did he have any influences?
H.D.: "He once confided to Robert Opron that he'd rather go to the zoo than a motor show. It's true that he sometimes drew his inspiration from the shape of certain animals. The daring, futuristic lines of the DS reflects the "morphing" of a fish and a car. But 1 can assure you that he paid close attention to other cars. 1 kept some of the notes and sketches he made at the Paris Motor Show, and they clearly show he was interested in various things. We're all influenced by somebody. When Mr. Bertoni was alone, he focused on himself. But as the team got bigger, we all influenced each other. In particular, I'm thinking about the work of Henriques Raba, who won the Prix de Rome. We can also see Bertoni as the gifted hand that was able to capture the aerodynamic shapes Andrť LefŤbvre was looking for. He felt all of these things instinctively rather than digesting them in a scientific way. In my view, Flaminio Bertoni was truly the greatest in terms of his sensitivity and feeling for shape."

Flaminio Bertoni (1903 - 1964)
The Traction Avant, the 2CV and the DS. These three exceptional CitroŽn models owe their existence to the genius and exceptionally skilled hands of Flaminio Bertoni.
A born artist and a hard worker, Bertoni was no doubt the first to sculpt body designs rather than draw them, thus working on volumes more than on lines.
People say that "il Maestro" created the body of the Traction Avant "7" in one night in 1933.
He drew the 2CV at the end of the 1940s and designed the famous "Hippopotamus" in 1947, forerunner of the DS 19 released in 1955.
Three strokes of genius from one of the forerunners of modern automotive styling.