BACK IN August 1970, the CitroŽn GS burst upon an astonished motoring world. Introduced on the British market in March 1971, the car immediately established new standards of comfort, technical sophistication, road holding, aerodynamic styling and performance for the 1-litre saloon market.

It was unique as a small five-seater saloon in offering belt-driven overhead camshafts on its flat-four engine, hydraulic suspension and pressurized disc braking on all four wheels. Anti-dive front suspension, self levelling ability, a new all-synchromesh gearbox, and a remarkably high top and cruising speed were other attractions.
The first models started to filter through soon after March, and by the end of the year the semi-automatic version was available. The estate car version came in March 1972.
The car was inevitably voted Car of the Year by three motoring magazines both here and on the Continent, and the rapturous reception by the motoring press was soon reflected in climbing sales figures.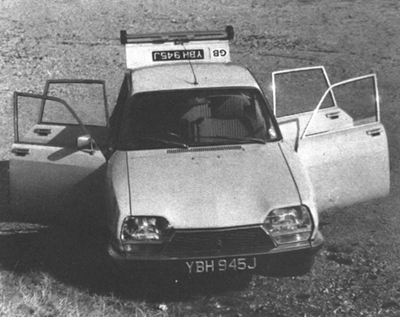 In fact the success of the GS was soon rather to embarrass the spares and service organization in Great Britain, and there were more than a few holdups on spares in the early days, while tiny little CitroŽn dealers out in the backwoods found themselves inundated by owners clamouring for service on their sophisticated little cars. Now CitroŽn have set their house in order, moved to bigger offices and reorganized their parts operation. The number of dealers has also expanded, and there should be no problem about finding a dealer willing to work on the car.
Criticisms of the early cars started to emerge as the range became better known. The initial cars had rather small disc brakes and pads wore very fast. Oil leaks, and wearing of the camshafts at quite low mileages also occurred, together with some starting problems.

CitroŽn were modifying the 1,015 c.c. engine, transmission and fuel system almost constantly between 1971 and the end of 1972 to eliminate most of the problems, and the 1,220 c.c. GS with bigger brakes, a modified gearbox, and the extra power and torque delivery of the bigger engine came in August 1972 to answer most of the criticisms of the earlier car, that the acceleration was slow compared with its rivals, and that full throttle had to be used to keep station in traffic.

The 1,220 c.c. model also answered the criticism that the smaller engined car was too thirsty - a sure sign of a small engine being made to work too hard. The 1,015 c.c. car seldom returns more than 23-24 mpg under normal driving, and in fact can come lower if it is thrashed along. The 1,220 on the other hand is capable of 27 mpg in normal use, and can return over 30 on long distance cruising.

However, the GS range is still going from strength to strength, especially on the continent where it is immensely popular. At first glance it does not look like a good secondhand buy, since the complexity of the vehicle and high cost of spare parts might make the average secondhand buyer shy away. However, one should set against this the image and appeal of the car, and realize that it is unlikely to have been bought by someone who could not afford to run it. It is difficult to do one's own maintenance on a GS, and if it is not serviced at the proper intervals the car rapidly begins to show the ill effects of such treatment.

Another interesting point about the car is its almost unrivalled capacity for hard work. Our inquiries have revealed that CitroŽn GS's which have been thrashed around the country, rather-than being used for commuting or shopping are invariably in much better mechanical shape. The engines which spend most of their time up around the top end of the rev counter are always so much sweeter-running and free from starting problems. The car was designed with France's long, fast (and frequently rough) roads in mind, and it is in these conditions that the GS revels.

The main attraction of the car over its rivals is the relatively high rate of initial depreciation, giving the secondhand buyer a good deal against competitive cars. Given proper maintenance, the main components should be good for a useful mileage, and the policy adopted by CitroŽn in past years thoroughly to "rust proof" their cars with Tectyl makes the old bogey about CitroŽn rust problems obsolete. Many potential buyers are likely to be put off by fears that the complex suspension and brake system can cost a great deal of money to repair if it goes wrong. Against this one can only say that all the CitroŽns in Autocar's experience have given no suspension troubles over quite big mileages, and the vast experience the company have had over the past decade in the big DS models with basically the same system should have eradicated every bug. Hertz took 100 GS CitroŽns on their strength during the last Ford strike and had absolutely no major mechanical problems with them, indeed the fleet manager there is having more, since they proved to be, rather unexpectedly, very good and attractive hire cars.

Buying a used GS is really no different from buying any other used car. Obvious things to look for are evidence of a good service history, of a careful owner and of a confirmed mileage figure.

There are obviously more 1,015 c.c. models on the market than l,220's, but it is really questionable if you ought to go for the smaller engined car. Even if it means waiting for the right car, or raising some additional finance, the advantages of the bigger engine, the higher final drive ratio and the better and bigger brakes are really too obvious to be ignored. The 1,015 c.c. car is likely to have been used much harder than the bigger engined car. However, if the car has a well documented history, it should be easy to check if it has had the necessary modifications to keep it in line with current cars. On all pre-1974 cars, Confort means the normal trim standards, while Club means the more luxurious trim package.

Specific faults on the GS to look out for are in fact relatively few in number. If the car is the smaller engined version, there should be service evidence that the new valves and valve springs have been fitted. This can be checked by removing a cam box cover and checking that the valve springs are a rust brown colour. The anti-roll bar is prone to rattles, and should be checked for any looseness around the bushes. This can be cured by normal adjustment. Camshaft belts should be examined quite carefully - reputable service dealers change them every 24,000 miles without fail, so look at the mileage on the clock and check the newness of the belts. You should listen intently to the engine idling after a brisk run to warm it up. Camshaft wear is indicated by a loud mechanical tapping from the cambox, and fitting new cams means an eight-hour engine strip and a bill for around £70. The clutch should also be checked for any signs of slip, either on a quick gearchange, or dipping the clutch while accelerating hard in top or third. Again, any clutch slip means that the engine has to come out, and that means eight man hours at whatever rate your local garage charge.
Replacement costs are high on the major units, so check most carefully for any suspicion of engine or gearbox trouble; remember that a new engine could mean £300 to £400 and a new gearbox £200 to £300 by the time the old unit has been taken out and a new one installed.

Early automatic cars tended to develop a micro-switch relay defect which meant the car stayed in top gear, and this again required specialist attention. Drive shaft trouble seems to have been fairly rare in the GS, the only problems occurring when the rubber boot has been damaged and water and grit allowed to enter the joint. Headlamp damage or rusting can be expensive, much more so than a normal Lucas sealed beam unit, and should be checked for. It has been known for one or more of the rear disc brake pistons to seize, with the car's excellent roadholding and braking disguising the failure for many many miles.

Silencers and tailpipes are especially subject to rusting and are an expensive item to replace, so a careful inspection is called for. If you should decide to go for the 1,015 c.c. example it is worth checking in the service history that the various brake modifications have been incorporated over the years.

Inside the car, the GS stands up well to wear. Beware of a badly stained light cloth interior, since a great deal of work will be needed with upholstery cleaner to bring it back to acceptable standards.

Running a used GS can be an expensive business since servicing is not cheap and is most difficult to do on your own. Taking spark plugs out is a job for a contortionist, and many quite experienced do-it-yourself fiends may jib at such simple tasks as changing the points. To do this you have to take the distributor out complete, having marked its position in the clamp relative to the engine, slip in a new set of cassette points, and re-install the distributor. It sounds quite easy, but the position of the distributor and the clamp nuts makes it a tricky job.

Taking the heads off and doing a decoke is again rather beyond the average man, as it requires the belts to be taken off the cams, the whole of the front end to be dismantled to get at the engine, and the overhead cam clearances set up again.

The suspension and brake circuits with their pressure chambers and high pressure lines, pumps and accumulators are really a completely closed book to the do-it-yourself man, and any major problems here really have to go to a specialized agent. It is easy to check the suspension system for correct operation. When the car is started, it should raise itself to normal ride height quite quickly without needing to rev the engine. And when the engine is switched off again, it should maintain its ride height for around 30 seconds before sinking. With the engine running, you can put your weight on the back or the front of the car and the suspension should immediately adjust to the extra weight and bring itself up to the original ride height. Failure in any of these tests could indicate worn or leaking seals,but it is unlikely that the GS buyer will come across any major trouble here. Accident repairs are again expensive, a minor bump at the front means at the least a new plastic grille which can cost £20, and the more major the bump'the worse the bill. A new bonnet will cost a great deal of money, and although the front wings are bolted on, they can slide back on their mountings in an accident and damage the doors. A rear end accident that is more than a minor bumper dent will also mean a new tailgate, which can cost a great deal, and any damage to the rear quarters means a lot of expense since the panel is welded to the pillar at the back.
Milestones
August 1970 New CitroŽn GS announced in France.
March 1971 CitroŽn GS 1,015 introduced on UK market with right-hand drive and round instruments in place of French instrument panel.
October 1971 Semi-automatic saloon 1,015 c.c. introduced to UK.
March 1972 Estate car in normal and semi-automatic form introduced on UK market.
August 1972 1,220 c.c. Super Confort and Club saloon introduced with Estate Car and semi-automatic versions.
September 1972 Club version of 1,015 c.c. c.c. engine discontinued and Estate and Estate Car version of 1 ,015 c.c. discontinued.
June 1974 Introduction of G Special (1,015 c.c. engine), G Special 1220, Club 1220. and respective estate car and semi-automatic versions.
Cost of spares ex-factory

Components or sub-assemblies




1015 and 1220 models



Reconditioned engine assembly

£233 (Maximum credit on return of old units in repairable condition £34)

Reconditioned gearbox assembly

£130 (max credit £28)

Reconditioned semi automatic

£182 (max credit £47)

Clutch assembly

£28

Crown wheel and pinion

£41.61

Driveshaft

£61.84

Front hydropneumatic sphere

£12.32 each

Rear hydropneumatic sphere

£12.32 each

Exhaust system complete

£42.63

Alternator
£27.50

Starter motor

£27.50

Front disc brake pads

£8.25

Rear disc brake pads

£4.88

Bonnet

£26.15

Windscreen (toughened)

£21.33

Door shell complete

£24.28


All prices supplied by Citroen Cars Ltd. All prices include VAT.



Performance data



GS 1015

GS 1220

Road Tested in Autocar of

25 Mar 1970

1 Mar 1973


Mean maximum speed (mph)








Acceleration (sec)







0-30 mph

5.8

4.4

0-40 mph

8.8

7.0

0-50 mph

12.5

10.5

0-60 mph

18.0

14.9

0-70 mph

25.8

21.1

0-80 mph

41.9

31.4

0-90 mph

-

51.9


Standing 1/4 mile (sec)



21.5

20.1


Top gear







10-30

-

-

20-40

13.8

12.2

30-50

14.2

11.4

40-60

16.0

12.1

50-70

17.5

14.3

60-80

24.0

17.8

70-90

-

29.5

80-100

-

-


Overall fuel consumption (mpg)



23.3

24.8


Typical fuel consumption (mpg)



25.0

27



Dimensions





Length

13ft 1in.
Width

5ft 0in.
Height

5ft 0in.

Kerb weight (cwt)



16.7

16.8

Chassis identification

Series

Chassis number

GA

00GA4860

First cars introduced

GA

09GA1498

First semi automatic

GE

00GE0082

Estate Car Confort

GE

00GE0082

Estate Car Club

GE

01GE3715

Estate automatic

GB

00GB0001

Saloon 1220 super Confort and Club

GA

26GA8189

Saloon and Estate Club discontinued in 1,015 c.c. form

GA

28 GA 1103

Saloon Confort continued

GE

05 GE3552

Estate Confort continued

GB

01GB9152

Saloon 1220 continued

GC

00GC 9127

Estate 1220 continued








Approximate selling prices

Price range

1015

1220

£750 - £800

1971



£800 - £850
1972 (Club)



£850 - £900
1972



£900 - £950
1972 (Estate)
1973 (Confort)



£950 - £1,000
1973 (Estate)



£1,000 - £1,100


1973 (Saloon)

£1,200 - £1,300


1974 (Club and Estate)

£1,300 - £1,400



1974 (Club Estate)