CitroŽn introduces the MODUTOP on the Berlingo
Presented in the Berlingo at the 2000 Paris Motor Show, the new Modutop roof concept highlights the user-friendly character of the Berlingo and its ability to innovate. Offering a host of new functionalities, the Modutop roof aims to make life on board even more enjoyable for passengers.
The Modutop brings the vehicle's occupants new, easily accessible storage compartments of ingenious design, an excellent loading capacity, a wide range of comfort functions (ventilation, interior lighting, etc.) and a large glazed area.
The Modutop will make its market debut in January 2001, on the Berlingo Multispace and SX.

Traveller's joy
The style, architecture and colour (ivory) of the Modutop are inspired by the techniques used to design the interior layout of aircraft. The components offer a perfect fit with the vehicle interior. The roof is both light (30 kg) and resistant. Its architecture and robust design optimise safety for all the occupants of the vehicle.
The Modutop's storage compartments offer an extra 100 l of space in addition to the capacity already available on the Berlingo. The roof comprises one lengthwise storage compartment, whose edges are designed to prevent objects falling out, one crosswise compartment, two crosswise boxes, two side bins, a niche for the air recycling system, a removable central box at the rear with two locks, loudspeaker positions, a CD/cassette holder and a credit card/pen holder. The Modutop is also designed to maintain the headroom available to occupants.
On the outside, the Modutop has two built-in, pivoting, removable roof bars. Positioned lengthwise, the bars can be used to anchor such items as suitcases and trunks. Positioned crosswise, they can be used to attach large objects, for example, bikes, skis or surfboards. They are easy both to handle and to set up. The maximum load on the two crosswise roof bars is 70 kg.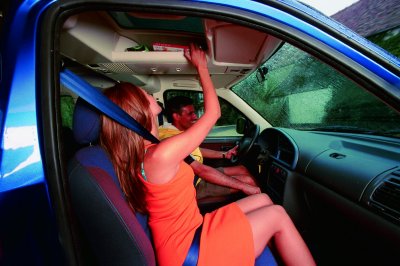 A roof for all tastes
With Modutop, passengers choose their own travelling conditions: each occupant has a pleasant living area with a window, an air vent and a stowage compartment allowing him to organise his journey to suit.
Reflecting the character of the Berlingo as a family vehicle, the Modutop provides a living area for children in the rear. Each side box is fitted with a 12 V socket to plug in accessories such as games consoles and portable CD drives.
Ventilation is provided at the rear by three nozzles with a flow rate of 125 m3/h.
Bright and airy
The vast glazed area (five large, rectangular windows) and tinted glass let in the light while keeping the heat out.
For night driving, the roof has two lights (including a double spot light) at the front and two double spot lights at the rear. The two lights in the load area illuminate not just the load area, but also the removable box on the Modutop.
© 21 September 2000 Julian Marsh/CitroŽnŽt/SA Automobiles CitroŽn