CitroŽn has released first details of the new C3, a completely redesigned successor to the popular C3 supermini – a bestseller with over 2 million units delivered worldwide.
Going on sale in mainland Europe from November 2009 and arriving in the UK early in 2010, the new C3 boasts contemporary lines and seductive styling, compact exterior dimensions – cleverly matched to exceptional interior space – good environmental credentials and a refined, high quality interior – as well as offering a unique and innovative windscreen design.
On the outside, new C3 gets a sportier edge, with a tauter profile that gives the car a more dynamic, yet robust appearance. Nowhere is the modern styling more apparent than in the design of the new C3's unique Zenith windscreen, which flows dramatically up and over the heads of the front occupants. Coupled with slim side pillars, the huge progressively tinted windscreen offers a truly panoramic field of vision – along with optimum overhead sun protection.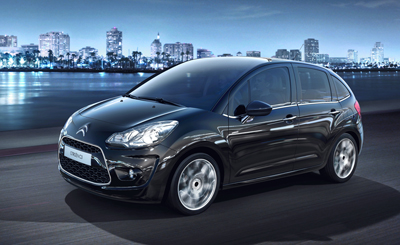 The new C3 is at ease in the city, with its compact dimensions and 10.2m turning circle, as well as on the open road, thanks to its enhanced dynamics. The careful control of weight, combined with optimised aerodynamics (Cd of 0.30), allows the new C3 to achieve excellent fuel consumption and CO2

emissions.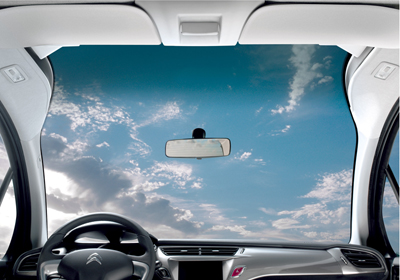 I was given to understand that further details would be announced on 8th July 2009 (the day after the 90th anniversary of the launch of the Type A, CitroŽn's first car) but today - 29th June 2009 - these photos and information were made available. The text above comes from CitroŽn UK and the text to the right and below comes from SA Automobiles CitroŽn.
A UNIQUE, ALLURING PERSONALITY
The new C3 is asserting its personality. The recognisable protective roundness of its predecessor is given a sportier edge with tauter, smoother lines. Exciting with a gentle touch: the essence of seduction.
The styling and refinement of the new C3 are seductive. The materials are high class, such as the thermo-coated dash, highlighted by a cross strip in satin grey or gloss brushed aluminium, and chrome detailing. The new C3 takes trim level and quality to a new dimension. This is illustrated perfectly by care with gap and flush, attention to every detail and robust design.
INTELLIGENT ARCHITECTURE
The new C3 is one of the most compact vehicles in its segment. With a length of 3.94 m, a width of 1.71 m and a 10.2 m turning circle, it is perfect for the city.
A compact exterior, without compromising on interior space. The new C3 has the roominess it needs to assert its new status as the main family car or core fleet vehicle. This can been seen in the generous 300 litres of optimised boot capacity, numerous storage spaces (console, glovebox, central armrest…), medium-height seats facilitating access and visibility, and optimised interior space offering more knee room. The new CitroŽn C3 is more spacious, but still compact. It's a "real" car, with upper-segment features.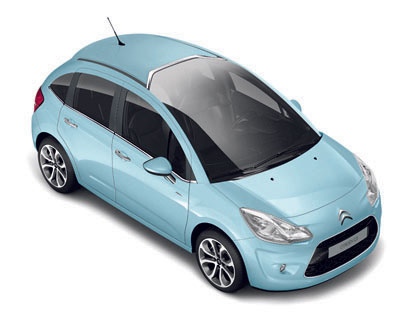 The new C3 is a "connected" car. In addition to the RD4 mp3 audio system, the USB Box (USB slot + jack, full iPod compatibility, Bluetoothģ hands-free kit) and MyWay navigation, the new Hifi Systemģ surrounds passengers with sound, as if they were in a concert hall. The system offers not only exceptional sound quality, but comes with a competitive price tag.
IMPRESSIVE AND REASONABLE DYNAMIC FEATURES
The new CitroŽn C3 will make others green with envy with more dynamic road handling, it is as comfortable on the open road as in the city, and has managed to keep a slim figure by not putting on any weight! An exceptional achievement given the convincing increase in comfort and interior space. This weight control, combined with optimised aerodynamics (a Cx of 0.30), the new C3 manages its fuel consumption and CO2 emissions intelligently. Right from launch, it will come in a version emitting 99 g/km de CO2, with the HDi 90 DPFS engine.
That expertise in managing fuel consumption will reach a new stage with the arrival of new powerplants in 2011,
incorporating second-generation Stop & Start. Coupled with five- and six-speed electronic gearboxes, they will equip diesel versions emitting only 95 and 90 g/km de CO2. In short, the new generation of three-cylinder engines will enable versions emitting less than 100 g/km de CO2.
Visiodrive' – the word created to best describe the new CitroŽn C3 – is born out of this unique windscreen, which is yet another example of CitroŽn's use of 'Creative Technologie'. The screen helps to create a bright and pleasurable cabin environment for driver and passengers alike – improving visibility, road safety, driving pleasure, ambience and the overall feeling of spaciousness.
Inside the cabin, attention to detail and the use of high quality materials, delivers an air of refinement and class, which is complemented by enhanced sound insulation and a pleasant fragrance from the car's integrated air freshener.
Despite its added sophistication, increased comfort and interior space, the new C3 remains one of the most compact vehicles in its segment – and avoids any increase in weight over the current model. At just 3.94m long and 1.71m wide, it offers a generous 300 litres of boot space, along with numerous storage areas throughout the cabin. Occupants also benefit from a feeling of comfort and roominess with a slightly raised seating position for ease of access and improved visibility.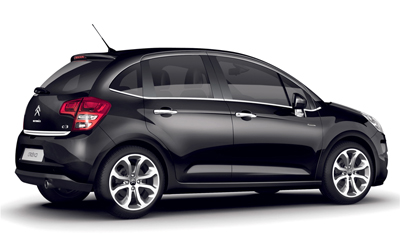 From launch, an HDi 90 powered version will be available emitting just 99g/km CO2 – the first full production CitroŽn to emit less than 100g/km.
Whilst the arrival of new power plants from 2011, incorporating second-generation Stop & Start technology, will see diesel versions emitting as little as 90g/km CO2, to be followed by new generation three-cylinder petrol engines with less than 100g/km CO2.
Modern and perfectly at home in the 21st century, the new C3 can be well connected with USB, iPod and Bluetoothģ functionality, as well as offering CitroŽn's 'MyWay' satellite navigation and Hifi Systemģ.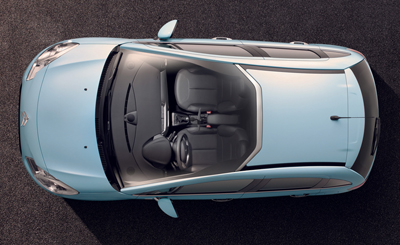 NEW CITROňN C3 – VISIODRIVE
Beautiful, young, intelligent. The new C3 by CitroŽn.
Coming out in November 2009, the new CitroŽn C3 has a strong ambition: to replace a bestseller that has sold more than 2 million units. "This is a major renewal for the Marque and gives us the wherewithal to achieve our target of increasing market share even more, among both individual and corporate customers," says Frťdťric Banzet, Managing Director of CitroŽn.
The winning formula: take the best of the C3 and make it even better. The new C3 is packed with seductive features: tauter styling, high-class trim, intelligent architecture creating exceptional interior space in what is still one of the most compact vehicles on the market, and superior on-board comfort and road handling, both in the city and on the open road. With the most advanced features in the segment, the new CitroŽn C3 will be ideal as the
main family car or core fleet vehicle.
But that's not all. The Zenith windscreen makes the new C3 unique. As well as drenching the cabin in light and expanding visibility, this windscreen introduces passengers of our Visiodrive to a new driving experience. "With the new C3, CitroŽn is opening up a new automobile universe. A universe where reason and responsibility leave room for new driving pleasure. And new sensations," says Vincent Besson, Products and Markets, CitroŽn.
These quality features are confirmed in the design and manufacturing of the new CitroŽn C3. Made in France, on the industrial sites of Aulnay and Poissy, the new vehicle meets high quality standards, both new and over time. To guarantee optimum reliability, and iron out the last imperfections, it will be put through more than 2 million kilometres of on-road testing before the market release.
A NEW DRIVING EXPERIENCE
The new experience goes further and gets better with the Zenith windscreen, a technological feat. This exceptionally long windscreen expands the front occupants' field of vision by 80į upwards. Combined with slimmer pillars, the Zenith gives all occupants a sense of unlimited, high-definition vision. Total immersion. As a world first, the progressive glass smoothes the transition from the strong sun protection above the front passengers to the standard clear glass for looking forwards. The saloon with the biggest windscreen and the smallest roof on the market delivers more new driving sensations! The new C3 offers more visibility and light, for more safety and driving pleasure.
Speaking of pleasure, our Visiodrive naturally benefits from the Marque's know-how in comfort. Everyone will be extremely comfortable on board the new CitroŽn C3 for all the senses: not just low noise and low vibration, but fragrant and nice to look at, with the many windows and air freshener. A relaxing atmosphere. A great car to drive and be driven in.