Continuing a process started some years ago with the development of the CitroŽn Evasion mobile office, the Xsara Intel and, more recently, the XM Multimťdia , CitroŽn presented the Xsara Auto PC at the 1998 Paris Motor Show. With this latest model, CitroŽn has consolidated its position among carmakers offering advanced technology in on-board communications, information and entertainment, three areas which are likely to be ever more important in the future.
The Xsara Auto PC was unveiled at the "Consumer Electronics Show" in Las Vegas in January 1998. The result of a partnership between CitroŽn, Microsoft and Clarion, it opens new horizons in the field of mobile communications.
The Auto PC is the latest in a line of PC-compatible products designed around the Microsoft Windows CE 2.0 operating system. The main innovation of the Auto PC resides in its use of voice recognition technology, enabling the vehicle to respond to oral commands and to talk to the user by means of a voice synthesis system. In this way, the driver is able to keep his hands on the steering wheel and his eyes on the road, while maintaining a dialogue with the on-board system.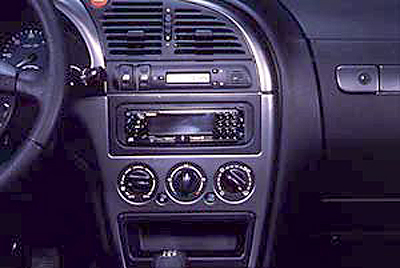 The ISO format appliance involves no specific modifications to the vehicle since it is installed in the car radio housing. Sophisticated but easy to use, the technology supplies the driver with navigation data, traffic information, and also a personal e-mail service. The Auto PC supplies an electronic road map using a GPS system, which also provides telephone and Internet access. The user can therefore obtain information on a range of topics including the stock market and the weather. The Auto PC also acts as a sophisticated car radio with a graphic equalizer, removable panel, CD audio and CD-Rom drive.