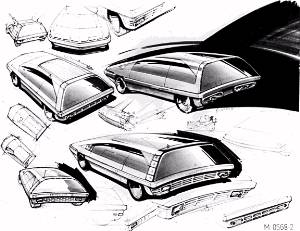 The fashion in the early eighties was for motor manufacturers to display scale models of concept cars rather than vehicles that could actually be driven and CitroŽn was no exception.
Trevor Fiore was responsible for the "break monocorps" Xenia.
Fiore envisaged it as a GT for the year 2000.
Unfortunately the concept was not developed any further.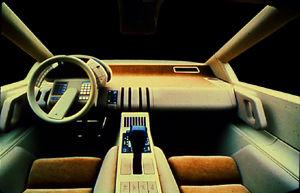 Throughout the eighties, CitroŽn turned down the idea of a single volume car, notwithstanding the success enjoyed by the Renault Espace.
Indeed, PSA turned down the idea when Matra first showed them the idea, based on a BX platform .
It was not until the launch of Evasion/Synergie that CitroŽn produced an MPV.
Tomorrow's "Estate" perhaps? This styling exercise by the model-makers of the CitroŽn design department at any rate tries to be more realistic than Karin's 1980 study. While remaining a highly experimental scale model, Xenia - for such is her name - has in fact been devised with a more down-to-earth approach to possible mass production. It is a sporting-looking estate with front-wheel drive, 4 passenger seats, "butterfly"-type doors and a hatch back. Length 13' 9 ?", width 5' 8 ?", height when in motion 4'. The inside layout has been designed according to ergonomic findings (rational study of postures and movements) and comprises some current sophisticated technological features, such as microelectronic systems for all checks, solar cells for the vehicle's air-conditioning.