The '68 Citroen shape for £1339
This is it. A dynamic new shape. The Citroën shape for '68 - and into the 70's. Wings, bonnet, bumper blending into one long, low, lovely line. To give Citroëns their first major shape change in 12 years. To lift Citroën design still further ahead to a supercar level.
But shape's not the only change. Citroën's new sleeked-out frontal line takes in a new and revolutionary four headlamp system. Two dipping headlights. Two long distance lights.
New shape and new lamps are what you get in every new Citroën in the '68 range. Including the low-priced beauty lighting up this page. The ID 19 Confort. The 100 mph, 30 mpg Citroën with power-operated brakes, Citroën air-cushion suspension, fully reclining seats.
A super Citroën that sells for only £1339 (and with power-assisted steering at under £1400).
And the rest of the range? DS models from £1598. Safari estate cars from £1798. Super-luxury DS Pallas models from £1798.
On Pallas models, as well as automatically self-levelling main headlights, you get quartz iodinelong-distance driving lights that are automatically directionally controlled. This means they literally turn with the wheels to light around any corner you're taking. There's not a car in the world as sophisticatedly far-seeing as that.
Advance and be recognised.

Thirteen years ago we changed the shape of the Citroen.
Radically.
We hunched the back a little. Drooped the snoot. Curved the sides. And the screen. (We even curved the underpan).
We took the flap out of the wings by making them part of the body.
Took away the bits and pieces that poked out.
Just about the only thing we didn't do away with were the wheels. They stayed. One at each corner.
All this we did in the name of Efficiency. Safety. And Beauty.
When we were through we found the new shape Citroen had the lowest co-efficient of air resistance of any saloon car giving high speed stability and better fuel economy. (Safety and efficiency).
And we soon knew how great it looked because everyone went "Aah".
The new big Citroens start at £1420.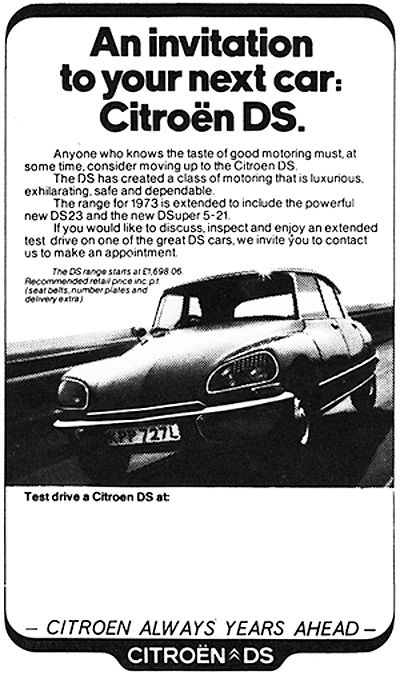 One new and brilliant Citroën after another . . .and each one 10 years ahead of its time
What car comes near the new and brilliant Citroën? Answer: only another new and brilliant Citroën. And here it is. The superb I.D. 19 has the same amazing hydro-pneumatic suspension, the same tenacious road-holding, the same ease of handling and cornering, the same braking efficiency as the senior Citroën. All this in fact:
Hydro-pneumatic suspension - the most advanced in the world - keeps car at same height and on even keel, giving unbelievably smooth riding whatever the load, camber or surface.
Powered front wheel disc brakes (standard brakes for rear wheels) for instant halting always.
Single spoke steering wheel and new angle steering column minimise danger to wrists and chest, makes the Citroën safest to drive.
Front wheel drive plus low centre of gravity gives maximum road-holding . . . facilitate high-speed cornering.
Seating for 5-6 in comfort. Oversize boot - 17 cu.ft.
Best all-round visibility of any production saloon.
Petrol consumption 38 m.p.g. at steady 30 m.p.h. ("Autocar" 29/8/58). Genuine top speed 80 m.p.h.
The I.D. 19 - £998 plus £500.7.0. p.t.

And of course the
D.S. 19
at £1,150 plus £576.7.0. p.t. also has:

Hydraulically assisted rack and pinion steering which makes for feather touch, finger tip control.
Hydraulically operated gearbox. Clutch automatically disengages below minimum r.p.m. - engine cannot stall.
Genuine top speed of 87 - 90 m.p.h. 28 - 30 m.p.g. at 45 m.p.h.
Ask your Citroën dealer to let you take the wheel of one of these wonderful cars and prove to yourself that it's ten years ahead of its time. For full details and name of nearest dealer, write to address below.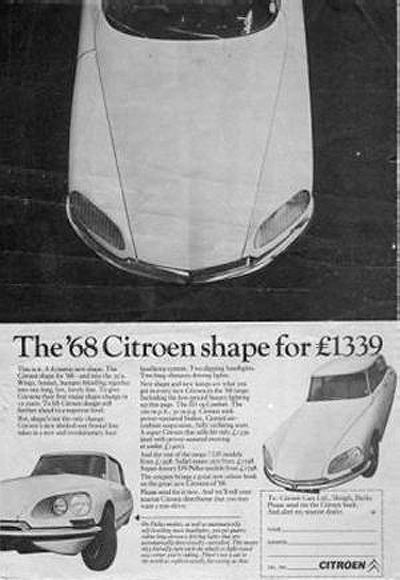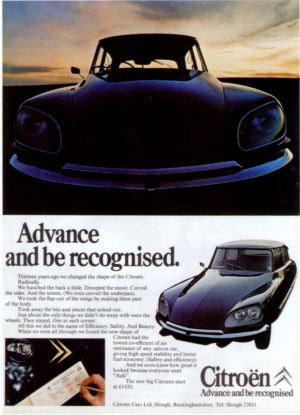 An invitation to your next car: Citroën DS
Anyone who knows the taste of good motoring must, at some time, consider moving up to the Citroen DS.
The DS has created a class of motoring that is luxurious, exhilirating, safe and dependable.
The range for 1973 is extended to include the powerful new DS23 and the new DSuper 5-21.
If you would like to discuss, inspect and enjoy an extended test drive on one of the great DS cars, we invite you to contact us to make an appointment.
The DS range starts at £1,698.06.
Recommended retail price inc. p.t. (seat belts, number plates and delivery extra).
CITROEN ALWAYS YEARS AHEAD