DON'T OVERLOOK
the car you
CAN'T OVERTURN
A fast run on a treacherous, greasy, wet road, full of bends . . . . yet look at those wheel tracks! Not an inch of deviation anywhere. There is not a car to touch the Citroen for holding the road ; you can't skid on corners any more than on the straight, while as to turning it over . . . it's impossible. And for solid strength it's absolutely unbeatable! Another wonderful feature of the Citroen is the unique suspension, which makes a cart track as smooth riding as a main road. Taking it all round, it's marvellous value . . .good looking, takes five people easily, and yet costs as little as
£228
CITROEN CARS LTD. TRADING ESTATE, SLOUGH BUCKS
£ = GBP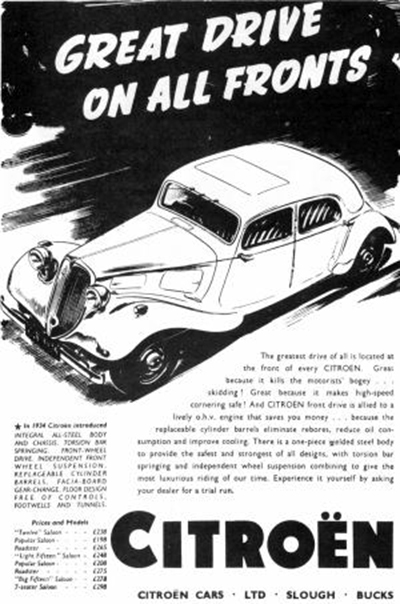 GREAT DRIVE ON ALL FRONTS
The greatest drive of all is located at the front of every CITROňN. Great because it kills the motorists' bogey . . . skidding! Great because it makes high speed cornering safe! And CITROňN front drive is allied to a lively o.h.v. engine that saves you money . . . because the replaceable cylinder barrels eliminate rebores, reduce oil consumption and improve cooling. There is a one piece welded steel body to provide the safest and strongest of all design, with torsion bar springing and independent wheel suspension combining to give the most luxurious riding of our time. Experience it yourself by asking your dealer for a trial run.
* In 1934, CitroŽn introduced
INTEGRAL ALL-STEEL BODY AND CHASSIS. TORSION BAR SPRINGING. FRONT-WHEEL DRIVE. INDEPENDENT FRONT WHEEL SUSPENSION. REPLACEABLE CYLINDER BARRELS. FACIA-BOARD GEAR-CHANGE. FLOOR DESIGN FREE OF CONTROLS, FOOTWELLS AND TUNNELS.
Prices and Models
| | |
| --- | --- |
| "Twelve" Saloon | £238 |
| Popular Saloon | £198 |
| Roadster | £265 |
| "Light Fifteen" Saloon | £248 |
| Popular Saloon> | £208 |
| Roadster | £275 |
| "Big Fifteen" Saloon | £278 |
| 7-seater Saloon | £298 |
£ = GBP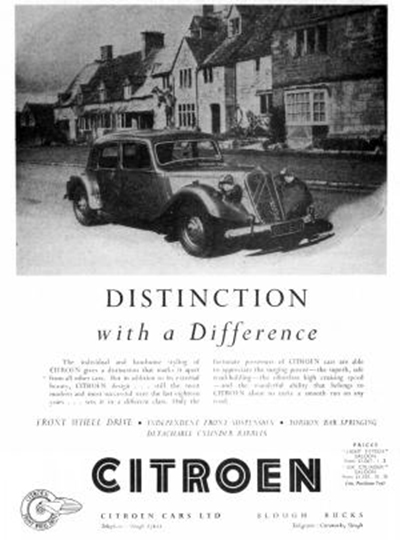 DISTINCTION with a Difference
The individual and handsome styling of CITROEN gives a distinction that marks it apart from all other cars. But in addition to its external beauty, CITROEN design . . . still the most modern and most successful over the last eighteen years . . . sets it in a different class. Only the fortunate possessors of CITROEN cars are able to appreciate the surging power - the superb, safe road-holding - the effortless high cruising speed - and the wonderful ability that belongs to CITROEN alone to make a smooth run on any road.
FRONT WHEEL DRIVE ? INDEPENDENT FRONT SUSPENSION ? TORSION BAR SPRINGING ? DETACHABLE CYLINDER BARRELS
PRICES
"LIGHT FIFTEEN" SALOON from £1,067.1.2
"SIX CYLINDER" SALOON from £1,528.18.11 (inc. Purchase Tax)
£ = GBP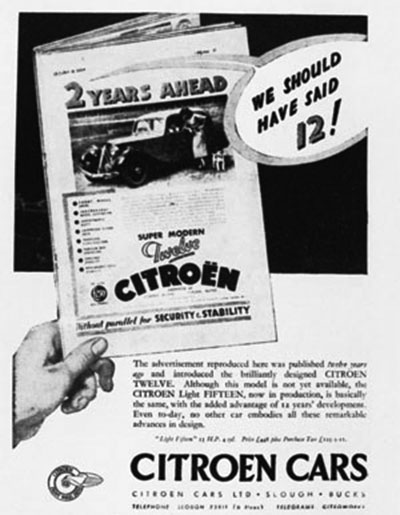 The advertisement reproduced here was published twelve years ago and introduced the brilliantly designed CITROEN TWELVE. Although this model is not yet available, the CITROEN Light FIFTEEN, now in production, is basically the same, with the added advantage of 12 years' development. Even today, no other car embodies all these remarkable advances in car design.
"Light Fifteen" 15 H.P. 4 cyl Price £448 plus Purchase Tax £125-3-11
£ = GBP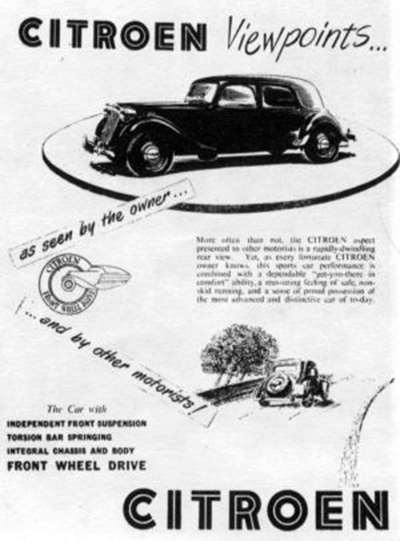 CITROEN VIEWPOINTS
More often than not, the CITROEN aspect presented to other motorists is a rapidly dwindling rear view. Yet as every fortunate CITROEN owner knows, this sports car performance is combined with a dependable "get you there in comfort" ability, a reassuring feeling of safe, non-skid running, and a sense of proud possession of the most advanced and distinctive car of to-day.
The Car with
INDEPENDENT FRONT SUSPENSION
TORSION BAR SPRINGING
INTEGRAL CHASSIS AND BODY
FRONT WHEEL DRIVE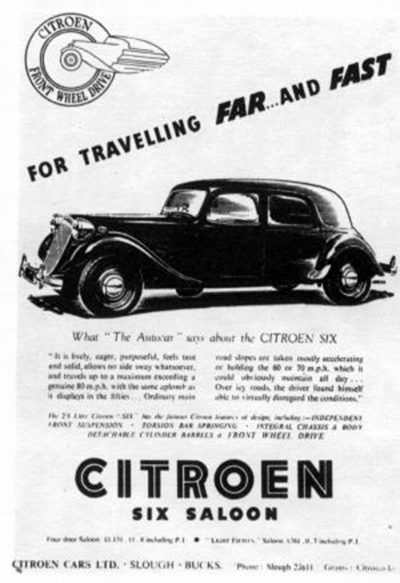 FOR TRAVELLING FAR...AND FAST
What "The Autocar" says about the CITROEN SIX
"It is lively, eager, purposeful, feels taut and solid, allows no side sway whatever, and travels up to a maximum exceeding a genuine 80 mph with the same aplomb it displays in the fifties . . . Ordinary main road slopes are taken mostly accelerating or holding the 60 or 70 mph which it could obviously maintain all day . . . Over icy roads, the driver found himself able to virtually disregard the conditions."
The 2.8 litre Citroen "Six" has the famous Citroen features of design, including :- INDEPENDENT FRONT SUSPENSION - TORSION BAR SPRINGING - INTEGRAL CHASSIS AND BODY - DETACHABLE CYLINDER BARRELS & FRONT WHEEL DRIVE
Four door saloon £1,131.11.8 including P.T. "Light Fifteen" Saloon £761.0.7 including P.T.
£ = GBP