All models have four seats, some have two doors, and others, four door openings or notches. The few Baby Brousses from the Côte d'Ivoire which have been imported into France all have doors.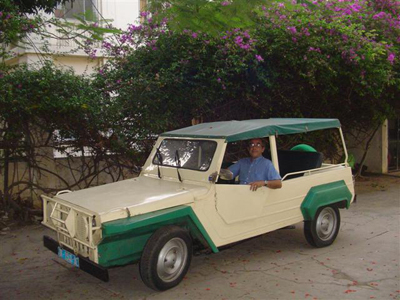 Curiously, in a car intended for tropical Africa, the heating boxes are still present, although the tubes are long gone.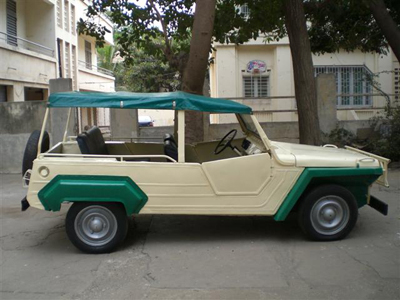 A single choke carburettor is fitted together with a dry air filter.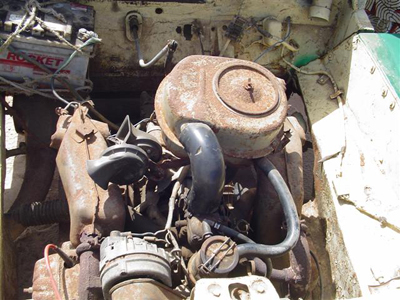 Front drum brakes are of 220 mm diameter as they are in AK vans, Dyanes and Méharis.
The door latch is simply that, a latch. It is difficult to be more minimalist.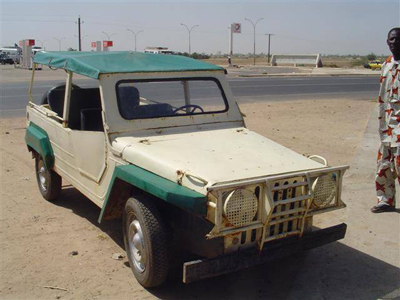 On some Senegalese cars, the windscreen is borrowed from the Renault 4L. This probably a local adaptation due to supply disruptions.
Length: 3700mm (excluding the bull bar) compared with the Méhari at 352mm and the Acadiane at 4030mm. The wings give it a width of 1560mm compared with the 1530mm of its European sister.
It is difficult to be precise about the height since this is a function of adjusting the tension of the springs but it can vary between 1000mm and 1500mm.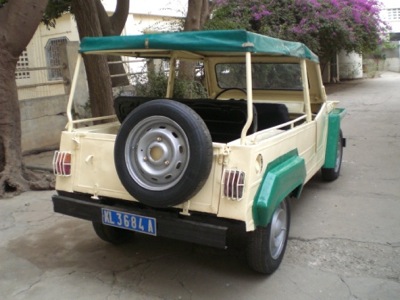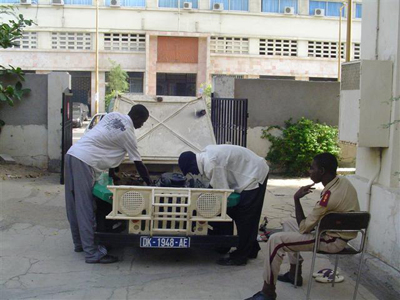 The spare wheel can be attached to the bonnet. There are two handles to allow one to open the flat, heavy bonnet.
The battery is on the right as is it is on the Méhari.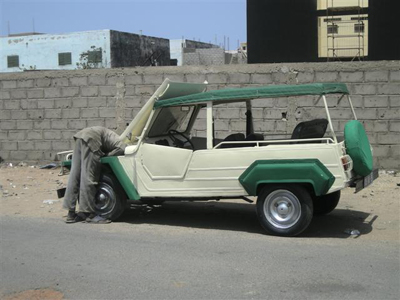 The grille, bumpers and body are fixed with bolts. The sheet metal body components are easily removable with an 11mm spanner and the windscreen can be folded flat onto the bonnet.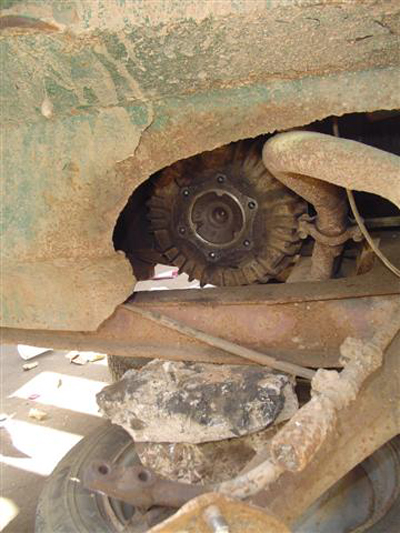 A close ratio gearbox, similar to those fitted to 2CV Cross cars is fitted. At low speeds, it has a lot of power to negotiate sand or the quagmires of the rainy season. But 4th is reached at 45 kph/28 mph and top speed on asphalt is a mere 75 kph/47 mph.
It appears that, originally, the tyres were 135 x 400 but it is difficult to confirm this.
Above - the car before its restoration
Its weight is slightly over a ton-like that of the Acadiane so acceleration is glacial...
In fact, the first gear is so low and the change up to second is needed so quickly that it makes sense to start in second gear.
Once in motion, it behaves like any other Deuche or derivative although it is much noisier.