CX Break Evasion
Here's a luxurious, comfortable means of "escape" in this special version of the CX Estate finished off by the firm of Heuliez.
Its outside appearance differs from that of standard CX estates by light-alloy wheel rims, vinyl roof and upper rear panels, matt black window frames, and tinted glazing throughout. Both outside rear-view mirrors are electrically controlled.
Inside arrangements include forward-folding of rear seats in separate halves, and electric control of all windows. The instrument panel, body uprights, door and rear-gate panels are all lined with buff leather.
The seats, of the CX GT1 type, are upholstered in buff-coloured rhovyline fabric, like those of the CX Prestige, but can optionally be of buff leather.
Other optional features : panoramic sliding roof of dark-tinted glass and air conditioning (special Isotherthermal insulation is however standard).
The vehicle is available in two versions : 5-seater estate or 7/8-seater family version; and in two lengths:
16' 3 ¼", like other CX Estates,
or 16' 9 ½"

INJECTION OR DIESEL

It is also available with a choice of two engines: the electronic-injection 2400-cc, or the 2500-cc Diesel, and can according to the customer's choice be fitted with one of two gearboxes: the 5-speed box or the automatic (ZF transmission comprising a hydraulic torque converter and an automatic hydraulically-controlled gearbox).

The body is finished in varnished metallic cruise blue, pearl grey, golden sand, tamarisk green or dragon red lacquer, but can optionally be supplied in any tint to be found on the market.

© 1980 le Double Chevron
Below dating from 1978 the Break Evasion used the engine of the CX GTi or the 2.5 diesel. The rear doors were lengthened by 16 cm and the interior of the car was luxuriously equipped.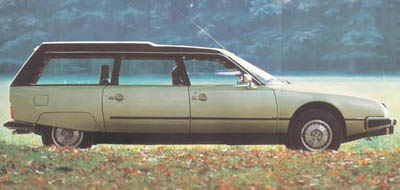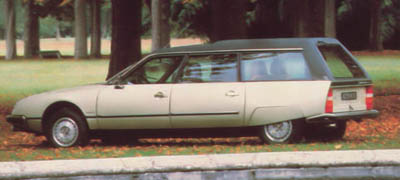 Above and below the Citroėn factory supplied an ambulance equipped by Heuliez
Right in October 1988 at the Paris Salon, Heuliez showed a new Evasion Break based on the series II CX 7 seater familiale.
It was beautifully finished inside and out - the interior using leather, virgin wool (hence the Woolmark logo) and an opening roof.
Other versions with differing trims and colours were shown in 1989 and 1990 by which time the CX had been superceded by the XM.
CX Corbillard (hearse)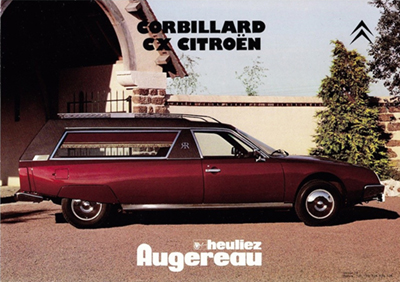 Above manufactured by Heuliez Augereau, the CX Corbillard had a lengthened body; the rear two doors were deleted and a new, vinyl-covered superstructure incorporating tinted glass was installed. Additionally a chromed embellisher was fitted below the bodywork.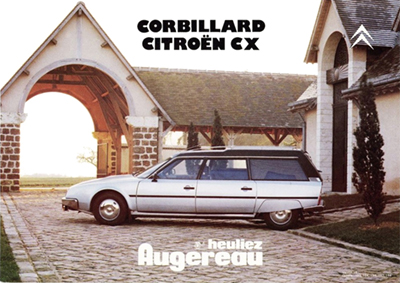 Heuliez Augereau also built a 5 door hearse above and below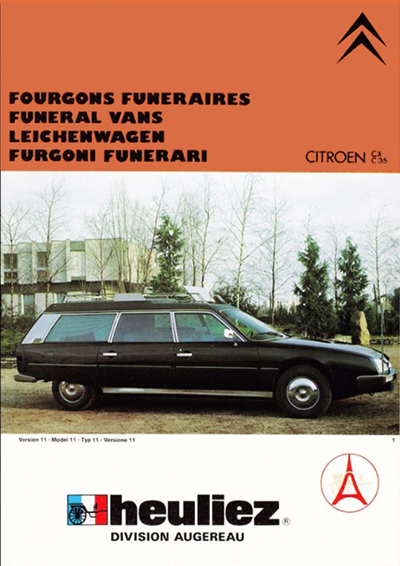 CX Evasion 2