The Sbarro Aventure of 1986 was based on the Citroën C 15 van - the original vehicle's spartan utility is transformed into a shrine to hedonism and sheer, unadulterated luxury.
Front seats swivel and behind the two part rear bench are two occasional seats.
A CX windscreen is employed.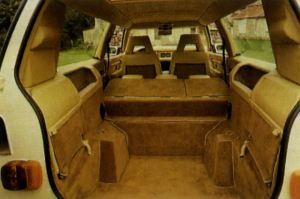 Above : difficult to detect beneath this exterior is a Citroën (née Oltcit) Axel - the floor pan, doors, part of the roof, bonnet as well as all the mechanical parts of the four cylinder car were retained.
Baptised Onyx, Sbarro revived this name for a ZX-based car, styled by the students at his automotive design school, Espace Sbarro.