THE ENIGMA OF "THE FIRST VIGO GSs"

1971 saw the first CitroŽn GS made in Spain but the official figures show 1978 as the first year of production. So why the discrepancy?

To answer this question we must go back to April 1958 when CitroŽn, responding to the high tariff barriers that protected Spain's domestic auto-makers, established the Vigo car plant in Galicia. As in many countries, imported cars were taxed at a higher rate than domestically produced vehicles and this led many manufacturers to build cars in strategically important markets. Local regulations usually required that a certain percentage (by value) of a car must use domestically produced parts and components. Vigo was the chosen location because it was both a port and a free port. Transactions that occur within a free port are generally not subject to local taxes which facilitates the export of products.

The Vigo factory had been used to assemble local derivatives of the A series vehicles until 1971 and production was focused on the domestic market.

Felipe Cucciardi researched the production data and discovered that the GS began to be manufactured in Spain in 1971, a year after its launch in France, but the GS did not go on sale in Spain until 1973 when the 1220 engined version was produced. The fiscal regime of those years required domestic production of parts which the factory was unable to finance, in particular the hydropneumatic components which had to be imported from France. Had Spanish built cars with French hydraulic components been built, they would have been subject to the same import taxes as complete cars imported from France. Thus, the Spanish factory could only import items from France if the end product was exported. 80% of the car was French while the Spanish components made up the remaining 20%. For this reason, were exported to the Netherlands via monthly shipments where they were not listed as French cars, but as Spanish, albeit with French car prices. The cars were shipped on a freighter that took Volkswagens from Germany to the United States which, were it not for these 'El Vigo' GSs would have returned empty. Instead, the vessel called in to Vigo where the Spanish GSs were loaded and shipped to the Netherlands.

In 1972 the company invested 700 million pesetas as a result of which they achieved a Spanish-built percentage of 70% which eventually increased to 90%. This meant it was treated as a domestically produced car and could be sold in Spain at a reasonable price.

But in 1971, the 1,015 engines, the front and rear suspension assemblies and steering were imported from France, while gearboxes were made in Spain. The body assembly, the entire painting process and the final assembly were all performed in Vigo.

Production started in Vigo in either September or October 1971 at an artisanal level of five cars a day with a total production that year of 270.

French data states that production of the GS in Spain began in 1978. However, it seems that this is the date on which the Vigo GS became totally Spanish (without any imported parts). These first GSs were manufactured in Spain but with French components which explains why the production is counted in France.

In 1972, as a result of the change in fiscal legislation CitroŽn instituted an expansion plan that included:
• The establishment of a production plant in the industrial area of ​​San Ciprian de ViŮas (Orense) for mechanical parts.
• Restructuring, modernisation and expansion of facilities in the Vigo Freeport.
• The creation of a distribution centre in Porrino (Vigo).
• Production of 58,000 units per year.

A new international strategy was adopted by the parent company, which then began to market some of the models produced in Vigo in various international markets.

Spanish GSs evolved along the same lines as the French cars but the Pallas was renamed 'Palas'.

From 1978, Spanish cars were sold throughout Europe.
Year

GS

GSA

1971

270




1972

1,044




1973

6,144




1974

19,796




1975

32,920




1976

48,725




1977

55,542




1978

58,137




1979

35,239

16,190


1980




32,288


1981




9,657


1982




15,355


1983





61,132


1984





18,510


1985





7,130


1986





49


Total

257,817

160,311


French data indicate that production of the CitroŽn GS began in Spain in 1978. It would seem that this is when the GS became totally Spanish (i.e. without any imported parts).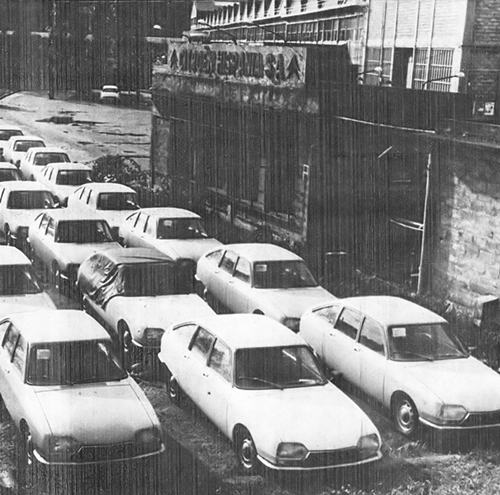 Above

some of the 270 vehicles destined for export to the Netherlands in 1971