In 1970, CitroŽn launched two new models - the SM and what was probably the most technically dense car within its market sector, the GS which beat the SM to the Car Of The Year Award that year.
While the GS was a technological tour de force since it introduced self levelling suspension and powered disc brakes to the mainstream, the SM was CitroŽn's long awaited flagship, intended for a wealthy, discerning elite.
The SM was the product of over half a decade of development work and its technical solutions to the problems of powerful front wheel drive cars included DIRAVI - DIRection A Rappel AsserVI or VARIPOWER as it is known in Anglophone markets. This was a fully powered steering system which provided maximum power at low speeds with the power being reduced as velocity increased. This was coupled withpowered centering and only two turns from lock to lock. Centre point steering (where the pivot point passes through the centre of the tyre tread contact point was possible thanks to the front brakes being mounted inboard on either side of the differential.
Hydropneumatic, self levelling suspension was carried over from the DS although the mounting points for the suspension arms were in front of the wheels rather than behind them as in the DS.
The SM was launched at the Geneva Salon in the spring of 1970.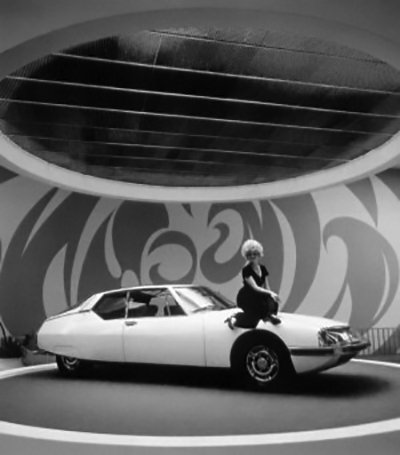 Above - the bodywork elements Below - the DIRAVI steering
Below - braking layout
The dashboard featured an oval steering wheel and oval instruments. The factory only built left hand drive cars but a few were converted to right hand drive by Middleton Motors
Above and below - engine and transmission showing inboard disc brakes - click on image to see large version (will open in new window)
Above - appearances notwithstanding, this is a SM under the DS skin as rallied by M Waldegaard
Chapron also built a number of four door limousines called Opťra and a drophead cabriolet called Mylord. More pictures can be seen in the Graham Lane PhotothŤque.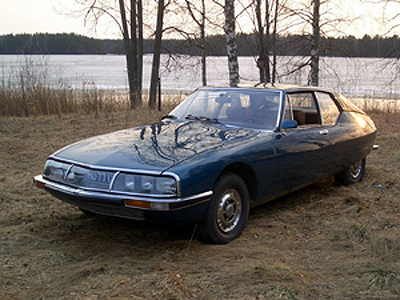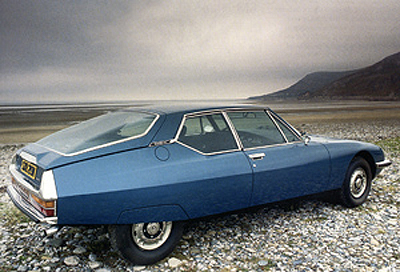 Technical specification 1971

Number of cylinders

V 6

Cubic capacity

2 670 cm3

Bore and stroke

87 x 75 mm

Fiscal power rating

15 CV

Fuel system

Three Weber carburettors

Maximum power output in brake horse power

180 SAE @ 6 250 rpm
170 DIN @ 5 500 rpm

Valve gear

4 overhead camshafts, 2 overhead valves per cylinder

Transmission

Front wheel drive via 5 speed manual gearbox

Brakes

Fully powered discs, front brakes mounted inboard, parking brake operates on front brakes

Suspension

Self levelling, fully independent, variable ride height, hydropneumatic with anti dive, anti squat geometry

Steering

Rack and pinion, DIRAVI/Varipower

Dimensions

| | |
| --- | --- |
| Length | 4,890 m |
| Width | 1,840 m |
| Height | 1,320 m |
| Wheelbase | 2,950 m |
| Front track | 1,530 m |
| Rear track | 1,330 m |
| Weight | 1 450 kg |

Maximum speed

220 kph
Above - suspension layout
The SM , despite being longer than the DS, was a 2 + 2 Grand Tourer.
The body was styled by Robert Opron who was also responsible for the GS and CX .
The glass front housed no less than six headlamps, all of which were connected to the suspension to maintain a constant beam height whether accelerating or braking while the inner pair were connected to the steering. American customers had to put up with four fixed round lamps with no glass nacelle.
In 1973, power output was increased to 188 bhp SAE @ 6 250 rpm/178 bhp DIN @ 5 500 rpm thanks to the fitting of electronic fuel injection. Top speed increased to 228 kph.
In 1974, the SM Automatique was launched, fitted with a 2 965 cm3 engine developing 190 bhp SAE @ 6 500 rpm/180 bhp DIN @ 5 500 rpm, fed by three Weber carburettors and a three speed Borg Warner automatic gearbox offering a top speed of 205 kph.
Escalating fuel prices in 1975 coupled with the unimaginative dead hand of Peugeot killed the SM off.
Click on the two engine cutaways to see large version (will open in new window)

Below the fuel injected engine
Above and below in its first outing, the gruelling Rallye du Maroc, the SM came first in Group 4
Above, below and below left - Henri Chapron built two four door drophead SMs for the Elysťe