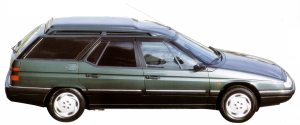 Not sold in the United Kingdom where the tax rťgime does not recognise that vehicles of this type are commercial vehicles, the Dutch XM Break Service improves on the load space in the already capacious Break or estate car with an usable volume of 2,4m3 thanks to a raised roof.
The XM Break Service is offered with a choice of 2,0i petrol engine, 2,1 turbo diesel or 2,5 turbo diesel, manual transmission and Hydractive suspension on the 2,5TD only; lesser models are fitted with normal hydropneumatic suspension.
Built by ASH in Herkingen (near Rotterdam) on special order from CitroŽn Nederland. It takes advantage of a very low road tax (and is exempt from luxury tax on purchase) since under Dutch law,a van has to have a minimum volume. The ASH company also builds similar versions of the Xantia and Xsara breaks. There is also an Evasion 'Service' available, but this car has only obscured sidewindows as the volume is sufficient.