In 1997, Dan Abramson was head of large/highline cars design, middle line (Xantia/C5 chassis) light utility vehicles and badging/decoration at PSA Peugeot-CitroŽn.

In his team at the time were Mark Lloyd, Ivo Groen, Oleg Son, Mark Pinson, Sean Hensridge, Urs Stemmler, Gunvant Mystry and a graphic team.

While doing the early C6 propositions at Linea Gamm, Dan got them to do a 2CV proposition to be in competition with the C3 project.

When the first 1/5 scale models were being done for the Saxo replacement, one of the directors said: "Shouldn't we try a 2CV replacement styled car". Those present seemed to think it was a stupid idea, despite the success of other retro-styled cars like the VW Beetle.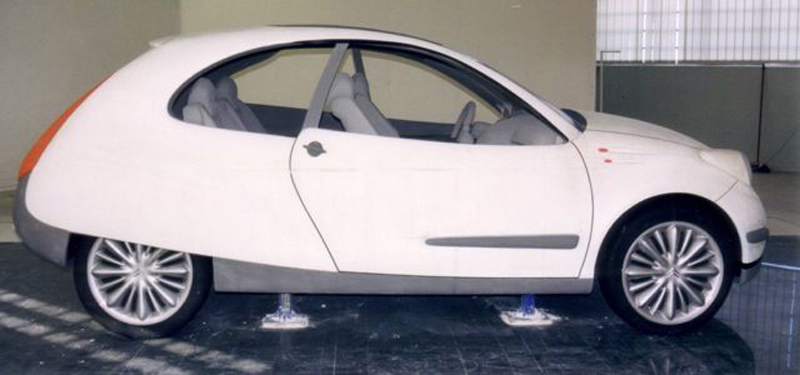 At about the same time Oleg Son was forbidden by Dan Abramson to work on Donato's area since Dan Abramson felt that Donato had more than enough staff and he didn't want to create tension by working on his stuff. Oleg Son created a 1/10 scale model in secret which Art Blakeslee just loved and sent it in where it was up against numerous 1/5 scale models. This car became the C3.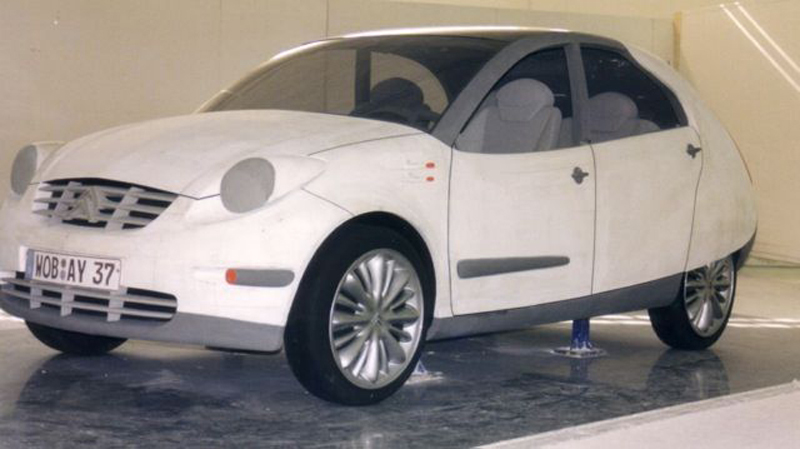 In the last round of scale models Dan had Urs Stemmler do a 1/5 scale model of his 2CV proposition (Urs had a 2CV and loved it). This beautiful model was hated or laughed at by everyone except the head of engineering. Dan managed to get a budget sneaked in while Urs was doing some C6 work in Italy and got a full size model made.

Urs Stemmler went to school at ArtCenter (Europe) and then was hired by CitroŽn and put in Dan's group as Assistant Chief Designer - high line & commercial vehicles (external and interior design where he stayed until quitting in 2003.
Urs is a 2CV fan and drove to work everyday in a souped up 2CV with 5 speed gearbox but people within the company thought he was a bit too much of a 2CV fan.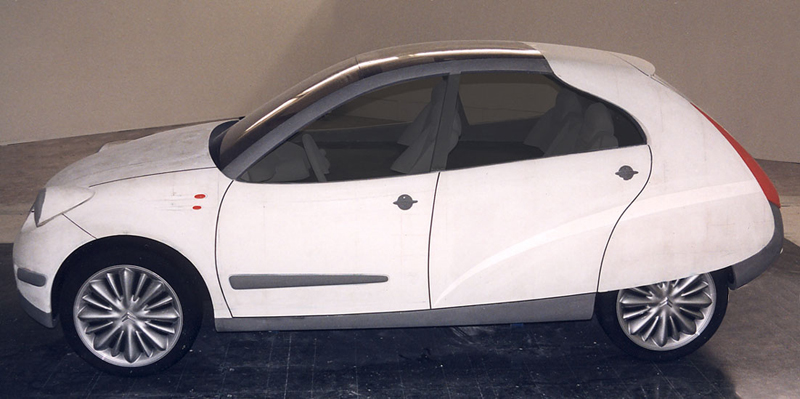 He worked on most of Dan's projects in one way or another and was in Italy where the C6 model was being done up in plaster at Linea Gamm. His 1/5 scale 2CV model had just been shown and canned but somehow he talked the guys in Italy to start a chassis buck and Dan came up with the finance and the full size model was completed. (Dan was good friends with the styling budget manager and he liked doing secret projects so getting money for the full size model was easy). Dan got the car paid for by adding budget to the other projects going on at the same time in Italy - the C6 model and the remodelling of the C6 Lignage interior. This eventually paid for the 2CV full size.

The only person who saw it was Vincent Besson who was too scared to show it to the Direction and said thanks but no.
Linea Gamm in Italy who did the model and others for PSA were, in Dan's opinion, the best in the world - the head was the old head of Ital design modelling and the second in charge was the old head of Bertone, and one septuagenarian had been a master modeller at Fiat.

The project was initially intended for the 2CV's 50th anniversary, so it was developed in 1997 to be ready in 1998. The project's unofficial name was TPV...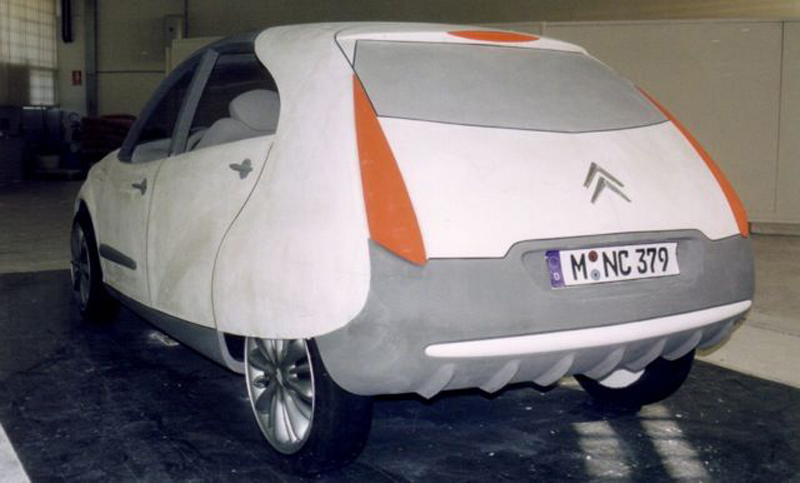 Dan Abramson worked for Groupe PSA Peugeot CitroŽn from 1984 until 2005 where he was responsible for the design of production cars; developing platforms for the 'haute gamme' (top of the range), 'gamme moyen (M2) and small utility vehicles.
He was responsible for the C6 exterior and interior design. His last project with PSA was the B9 (new Berlingo where they did roughly 15 full size models selling them on 2 side glasses and forward windscreen and various front end lengths. Then the project was given to Jean-Pascal Sciancalepore and it was subsequently transferred to Donato after his untimely death); Picasso Brazil industrialisation with Duarte/DCI; C5 and C5 Break exterior and interior design and the 2nd generation C5 restyle; Berlingo and Peugeot Partner exterior design and variants; Xantia and Xantia Break exterior design for 2nd generation; exterior design of the XM and XM Break and the BX Sport.
He was also responsible for developing numerous concept cars including Berlingo Bulle, Xanae, Activa and Activa 2.

Prior to working for PSA, he worked for Subaru and Chrysler.

Dan is now in charge of Design at RCD which has 12 or so full time designers working at PSA, a team at Aston Martin and a shop in Romania for Dacia/Renault/Nissan. In addition to work on cars, RCD is a supplier to Airbus and Eurocopter with a designer 100% of the time on aircraft, etc. They also have a team at Peugeot Motocycle doing scooters and bikes.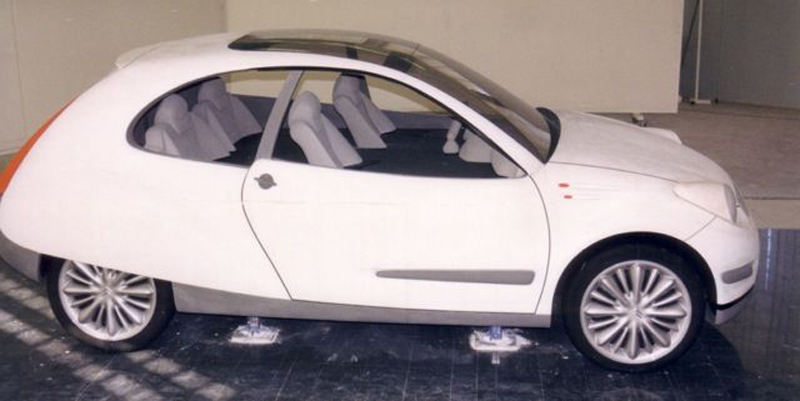 Urs Stemmler is the founder of yamei design, providing automotive design consulting and project management out of Hong Kong.
He is also the managing director of e:motive, a company specialising in mobility strategy, transport design projects and hr.
Additionally, he is a visiting lecturer for car design related master'ńŰs classes in automotive engineering & design at the HK Polytechnic University.
Prior to moving to Hong Kong, he was the general manager of MILAI Corp, an automotive design consultancy in Tokyo.
While at PSA, he worked on the C6 and C5 design management and part of the exterior and interior design, on the Berlingo exterior design incl. the sliding door and sun roof transformations; Berlingo Berline Bulle concept car exterior design; Xantia Break exterior design, Xantia RallyCross body transformation, various accessories, logo designs and gave the company aeroplane its livery.